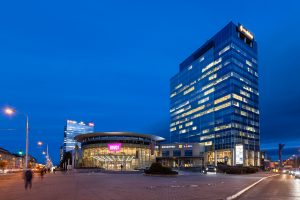 VIVO ! Bratislava is located on Vajnorská Street no. 100 in the city district Nové Mesto. Thanks to its excellent location, the shopping center is easily accessible. It is also an ideal place for fun, shopping and relaxation. You can find more than 130 stores of foreign and domestic brands under one roof.
The administrative buildings of myhive Vajnorská are connected with the VIVO! shopping center Bratislava – a place that offers everything you need for maintaining work-life balance. Here you will find a cinema, fitness center, restaurants, florist, dry cleaner's, supermarket and of course world-famous brands with quality clothing.
The great location of the myhive Vajnorská is a guarantee of trouble-free commuting (all types of public transport available).
The surroundings of myhive Vajnorská offer many opportunities for sports. Nearby is the Pasienky swimming pool, the newly built National Football Stadium, Ondrej Nepela Ice Stadium and HANT Arena.
The unique views of the Kuchajda Lake complex as well of the historical center of Bratislava are the cherry on the top.
myhive Vajnorská | Tower 1 is a 17-storey Class A office building with a floor area of approximately 1,060 m2. The total leasable area is 16,869 m2 with 327 parking spaces.
myhive Vajnorská | Tower 2 is a 20-storey Class A office building with a floor area of approximately 1,020 m2. The total leasable area is 18,715 m2 with 343 parking spaces.
VIVO! Bratislava is a shopping center with a floor area of 36,000 m2 and 130 shops, cafés, restaurants, banks, post office, cinema, casino and other facilities.
As the administrator of the VIVO! shopping center and office towers myhive – we provide mainly these services:
Comprehensive management of the building:
coordination and management of all support activities,
financial management and budgeting,
cost optimization and systematic search for cost-saving solutions
activities of the facility manager
administration and billing of services, elaboration of utility and services-related documents and invoices,
search for suppliers of individual services in cooperation with the customer,
24/7 hotline
fire protection and health and safety management,
communication with customers.
Operation and inspection of technical equipment of buildings:
routine operational inspections,
inspection and operation of HVAC according to the rules set by the manufacturer or legislation,
servicing in case of failures, addressing the poor condition of equipment.
Repairs and maintenance of buildings and technical equipment:
plan of maintenance and inspections of technological equipment,
operation and service:

technological equipment (air conditioning, heating),
distribution of el. energy,
heat distribution and cooling,
distribution of cold water, hot water and sewerage,
water distribution to SHZ from Lake Kuchajda,
light in common areas (indoor),
street lights – outdoor area,
electrical fire alarm EPS,
burglar alarm system,
fire extinguishing equipment SHZ,
RSP gas control stations in all buildings,
grease separators,
lifts, escalators, elevators, turnstiles,

inspection and maintenance of structural elements of the building and repairs,
inspection and maintenance of the exterior elements of the building and repairs,
operation and maintenance of traffic signs.
Other activities:
key management,
operation of modern electronic fire alarm systems.
operation of installed fixed fire extinguishing equipment,
we operate a helpdesk in the CHASTIA system for tenants,
marketing department support (event preparation, replacement / installation / de-installation of posters, citylights….),
technical department support.
Energy management:
services of energy consumption manager,
supplies of drinking water and DHW
energy consulting.