LOGISTICS PARK SENEC - HALL D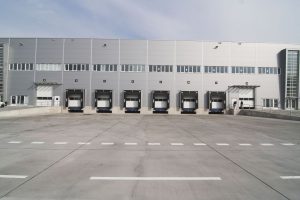 LOGISTICS PARK SENEC – HALL D is located in an attractive location with direct access to the D1 motorway. Only 15 minutes away from Bratislava International Airport and 58 minutes from Vienna Airport.
Description of the building
The Logistics Park provides the highest modern standards of Class A in the logistics, light industry and production facilities. These are large storage areas with a minimum clear ceiling height of 10.5 m.
The park has approximately 33,600 m2 of storage space, 26,000 m2 of paved areas and roads as well as outdoor service areas, 7,000 m2 of grass and other areas.
The car park provides a secure parking space for more than 20 trucks and 150 cars.
Comprehensive management of the building
coordination and management of all complementary activities,
cost optimization and systematic search for cost-saving solutions,
activities of the facility manager,
search for suppliers of individual services in cooperation with the customer,
24/7 monitoring of technologies,
communication with customers.
Operation and inspection of technical equipment of buildings:
routine operational inspections,
inspection and operation of HVAC according to the rules set by the manufacturer or legislation,
operative operation in case of failures, or solution of emergency conditions of equipment.
Repairs and maintenance of buildings and technical equipment:
plan of maintenance and inspections of technological equipment,
operation and service:

technological equipment (air conditioning, heating),
distribution of el. energy,
heat distribution,
distribution of cold water, hot water and sewerage,
lighting of common interiors,
outdoor lighting,
CCTV,
electrical fire alarm EPS,
electrical burglar alarm system,
stable fire extinguishing equipment
oil separator,
sectional gates and leveling bridges
inspection and maintenance of structural elements of the building and repairs,
inspection and maintenance of exterior elements of the building and repairs,
operation and maintenance of traffic signs.
Complementary activities:
key management,
operation of modern electronic fire alarm systems.
operation of installed fixed fire extinguishing equipment.
Energy management:
services of energy consumption manager,
energy consulting.