PRIVATE RESIDENCES ŠTRBSKÉ PLESO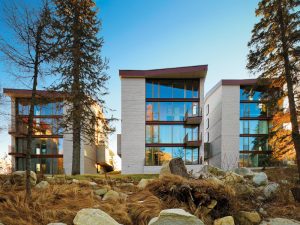 The apartment houses are located on the shore of Štrbské mountain-lake near the former spa house Hviezdoslav, which has underwent a complete renovation and since 2009 is known as Grand Hotel Kempinski, the first 5 star hotel in Slovakia.
The project consists of 8 apartment houses with a total of 25 apartments, which were completed in 2011, and a large underground garage with 2 floors (1st and 2nd underground floor). The buildings are made of cast concrete with a stone granite facade and large embedded glass panels. The whole complex of apartment houses is divided into 2 parts, namely: Western extension, which consists of two apartment houses (W1, W2) with 6 apartments, which is adjacent to the hotel Solisko, and the Eastern extension with 6 apartment houses (E1, E2) , E3, E4, E5, E6) with 19 apartments. Under the apartment houses E5 and E6 are underground garages with 43 parking spaces.
As the manager of the building we mainly provide the following:
Full property management according to Act 182/1993 Coll. on the ownership of flats and non-residential premises, as amended:
preparation of advance payments regulations, billing of services
elaboration of documents for invoicing of energy and services consumption,
searching for individual service providers with the participation of owners
communication with owners
fire safety management and OSH
entrance cards management
complaints handling
Operation and inspection of technical equipment of buildings:
routine inspections,
emergency operation in case of failures, addressing critical state of equipment
operation of 3 separate boiler rooms in the whole complex
nonstop call center,
The aim of the management is to ensure lower failure rate, longer life and functionality of technical and technological equipment. Part of the administrator's duties is maintenance planning – a schedule of maintenance with regular intervals.
Repair and maintenance of buildings and technical equipment:
plan of maintenance and inspections of technical equipment,
operation and servicing of the following:

technical equipment (HVAC),
boiler rooms,
chimneys
power distribution,
heat and gas distribution,
water distribution and sewerage,
outdoor and indoor lighting,
sectional rolling gates at the entrance to the garage, parking ramp
elevators,
access card system,,
Fire alarm systems (FAS)
fixed fire extinguishing equipment ( FFEE )
oil separator

inspection and maintenance of the structural elements of the building and repairs
inspection and maintenance of the exterior elements of the building and repairs,
Supplementary activities:
winter and summer maintenance of the corresponding external surfaces by machines and mechanisms, taking care of greenery
cleaning of indoor and outdoor areas, including glass panels, facade cleaning…,
minor repairs,
pest control, disinfestation of the building and common areas
winter stand-by, snow and ice removal from the road, parking lots, entrance to buildings and garage.
Our main intention is to have satisfied clients. We strive to achieve harmony in our relationship and offer professional, comprehensive and comfortable services. Therefore, the way we provide our services goes hand in hand with this goal. As we deeply care for the comfort of our customers, we always try to tailor our services to the specific needs of our clients. Our employees have the necessary education and long-term experience in the field and continuously increase their skills through professional training in order to be able to provide better quality services. Thanks to professional internal and external staff, we provide professional consultancy regarding technical and management issues.
| | |
| --- | --- |
| Individual buildings |   |
| Apartment house West 1 ( W1 ) | 2 apartments with an area of 832 m2 |
| Apartment house West 2 ( W2 ) | 4 apartments with an area of 1 066 m2 |
| Apartment house East 1 ( E1 ) | 4 apartments with an area of 757 m2 |
| Apartment house East 2 ( E2 ) | 3 apartments with an area of 621 m2 |
| Apartment house East 3 ( E3 ) | 3 apartments with an area of 713 m2 |
| Apartment house East 4 ( E4 ) | 3 apartments with an area of 745 m2 |
| Apartment house East 5 ( E5 ) | 3 apartments with an area of 371 m2 |
| Apartment house East 6 ( E6 ) | 3 apartments with an area of 371 m2 |
| Garages ( 1st and 2nd UF ) | apartments with an area of 1 314 m2 |