Svätý Jur, Rača, Malý Šariš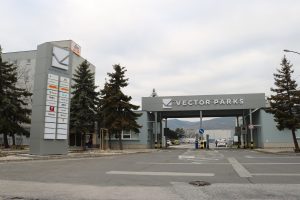 The logistics parks are located in close proximity to the cities, with an immediate connection to the major motorways of Slovakia, the Czech Republic, Austria and Hungary. Air, train and city transportation is reachable within a few minutes.
Vector Parks Svätý Jur is located only 2 km from Bratislava, the capital of Slovakia. The convenient location of the park allows for quick connection with Bratislava or the residential area of Svätý Jur and other surrounding towns. Within a few minutes you can easily reach D1 motorway (Košice – Bratislava – Vienna) and D2 motorway (Prague – Brno – Bratislava – Budapest). There are also two international airports – Bratislava International Airport, just 14 minutes from the park, and Vienna International Airport, just 55 minutes from the park.
Vector Parks Rača is directly in Bratislava. Thanks to its strategic location it is possible to quickly reach D1 motorway (Košice – Bratislava – Vienna) and D2 motorway (Prague – Brno – Bratislava – Budapest) as well as main roads of the city. The close proximity of Bratislava International Airport (only 14 minutes from the park area) and Vienna International Airport (just under 60 minutes from the park) is a great advantage.
Vector Parks Malý Šariš is located 2 km from Prešov and it is connected to the 1st class road I/ 18 Žilina – Poprad – Prešov. The park is only one kilometer away from D1 motorway (Bratislava – Žilina – Košice) and the motorway feeder to Prešov. The complex is situated at the outskirts of Malý Šariš.
Vector Parks Bratislava – Rača
The modern, energy-saving industrial park Rača consists of three main buildings with a total area of 69,000 m².
Vector Parks Bratislava – Sv. Jur
The modern and fully-equipped industrial park in Svätý Jur spreads over the area of 32,000 m². It consists of two Class A warehouse buildings.
Vector Parks Bratislava – Malý Šariš
The industrial park spreads over the leased area of 16,127 m², 10,684 m² of reinforced surfaces, roads and communications as well as outdoor service areas and 12,832 m² of green and other areas currently available for further construction.
The goal of Vector Parks is to provide more than just a storage space for clients – the storage space is more than a building. The spaces feature everything that is needed for running a business without any compromise. The park offers specific services and facilities that go beyond standard logistics and industrial facilities. All industrial parks are located near major cities offering better working opportunities. We do not stop caring for our clients once the contract is signed, quite the opposite! We focus on building a long-lasting relationship with our clients. Every client becomes our partner for whom we like to create ideal conditions for the development of his / her business.
Comprehensive facility management:
coordination and management of all supporting activities,
cost optimization and systematic search for cost-saving solutions,
work of the facility manager,
searching for individual service providers in cooperation with customers,
24/7 dispatch center,
communication with customers.
Operation and inspection of technical equipment of the building:
routine operation inspections
inspection and operation of technical equipment of the building according to the rules set by the manufacturer and legislation
temporary operation during system malfunctions or failures, handling of faulty technologies and equipment.
Repair and maintenance of buildings and technical equipment:
schedule of revisions, inspections, maintenance and repairs of technological equipment,
operation and service:

technological equipment (HVAC, air conditioning, heating),
power distribution,
heating and cooling,
cold and hot water distribution, sewerage,
interior lighting of common space,
surrounding space lighting,
CCTV system,
electronic fire alarm,
electrical security system,
fixed fire extinguishers,
fat separator,
oil separator,
sectional gates and the ramp at the garage entrance,
elevators, escalators,
parking and navigation system,

inspection and maintenance of the building and its vital components and repairs,
inspection and maintenance of the exterior elements of the building and repairs,
operation and maintenance of traffic signs.
Other services:
key management,
operation of the state-of-the-art electronic fire alarm system,
operation of fixed fire extinguishing systems.
Energy management:
energy-related services,
advice on energy consumption.